Del Secco Diamond Core & Saw offers full service commercial, residential and industrial concrete cutting and core drilling services. We utilize a broad base of experience and resources, allowing us to provide professional and cost efficient service regardless of the project size or complexity
CORE DRILLING
Do you need a core sample of a concrete structure to test for structural integrity? Core drilling offers a clean, fast and accurate way to drill holes. Core drilling can also be done for a number of applications, to include electrical, phone, HVAC and plumbing. Core drilling speeds up a project. Drilling is done faster, so commercial and industrial utilities can be installed.
Core drilling penetrates through concrete walls and slabs. Del Secco's offers an excellent core drilling service. When you need holes for plumbing, manholes, electrical lines or other uses, no one beats our core drilling service
​
Creates accurate openings for plumbing and electrical lines
​
Fast penetration through concrete structures
​
Provides project flexibility in case of construction problems
​
Can be done in confined spaces
​
Core drilling for any depth and concrete surface
​
Large diameter holes up to 54 inches
CONCRETE GPR SCANNING
In construction, the ability to see what is in the concrete slabs and walls can be most helpful. Knowing the position and depth of reinforcing steel, post-tension and pre-stressed cables can be invaluable when cutting or coring through concrete.
Using Del Secco's Ground Penetrating Radar service for concrete, we can safely and accurately find and clearly plot targets below the surface of concrete. Both metallic and non-metallic objects are detected and mapped.
GPR scanning is accomplished by sending a pulse of energy at a below-surface "target" and recording the strength and the time required for the return of the signal. Through a series of sent and returned signals over a specific area provides a digital window to view below the surface.
​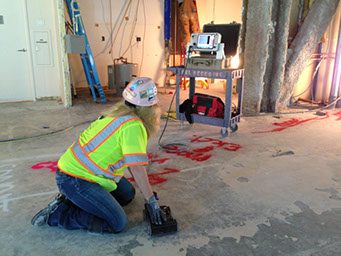 Knowing where these objects are prior to sawing or drilling of concrete can assist to eliminate the possibility of a timely and costly delay with your project. Start your project off right by knowing what you are cutting into with no unexpected surprises.
By using Ground Penetrating Radar, Del Secco is able to provide a real time and clear "subsurface image" of targets within concrete including:
Electrical conduits
Natural gas and water lines
Sewer lines
Rebar
Pre stressed cables
Communication conduits
GPR Scanning:
Is an easy and effective way to locate obstructions before cutting or coring concrete
Only requires access to one side of the wall or slab
Faster, less expensive and safer than using hazardous X-Rays
FLAT SAWING
Flat sawing or concrete slab sawing is the most identified diamond cutting method. Flat sawing features a diamond blade that is mounted on a walk behind machine requiring one operator. It is generally used to cut horizontal surfaces such as floors, bridge decks, expansion joints, and pavement.
Flat sawing can be performed with a gas or electric/exhaust-free unit. Generally cuts can be made up to 24" deep. However, we do offer specialized cuts of up to 27" deep.
Flat sawing is an efficient means of cutting any aggregate. It is quick and precise, allowing other contracting work to be performed virtually uninterrupted.
Typical Applications Include:
Cutting reinforced concrete floors.
Cutting expansion and control joints.
Trenching.
Flat sawing is the most commonly used diamond cutting method. It is typically used to cut horizontal flat surfaces such as floors, bridge decks, and pavement. Also called slab saws, flat saws feature a diamond blade that is mounted on a walk-behind machine requiring only one operator. They can cut up to 24" in depth. Flat saws are typically used to provide expansion joints, remove damaged pavement sections, clean and prepare random cracks for repair, and remove concrete sections for demolition purposes.
WALL SAWING
When you need precision vertical or horizontal cuts in concrete, wall sawing is the right choice. Wall sawing creates openings for doorways, windows, air conditioning and ventilation units and can be done in confined spaces where larger equipment can't be used.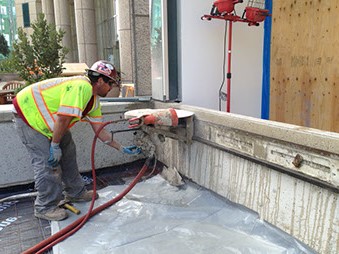 Del Secco provides precision wall sawing, to quickly and accurately cut openings for doorways and other fixtures. Doing this yourself will take time and energy. We provide wall sawing for all commercial uses.
Deep concrete cutting for walls up to 24 inches
Fast concrete cutting that speeds up construction projects
Precision concrete cutting, so fixtures fit properly
Wall Sawing in confined spaces
Vertical and horizontal cuts for doorways, windows and more
Wall sawing for steep surfaces
UTILITY LOCATING
As a construction professional, you have no doubt heard the phrase "call before you dig." But, who exactly is on the other end of the line when you call?
Utility companies that respond to locate requests via the state One-Call system, or Did-Alert, only locate and mark utilities that they own and only up to their meter. After the point at which the product is metered, the utilities are considered privately owned. They will not mark privately-owned utilities, such as electric, gas, and water services. Many industrial complexes have privately-owned utility systems between main buildings and outlying buildings.
Del Secco goes the extra mile for you. We find all of the utilities found within your project area, regardless of who owns them. By locating these utilities before you start your project, we help you avoid large repair bills, unproductive down time, and possible harm to personnel or equipment, all of which can greatly escalate your job costs.
When you really need to know if there are utilities in your project area, call Del Secco Diamond Core & Saw, Inc..
ASPHALT SAWING
Asphalt or road sawing is done by diamond blades on machines that are usually powered by gasoline, diesel, electric, or hydraulic engines. Asphalt sawing is used to cut asphalt and concrete roads for the purpose of installing drainage channels, plumbing, power and communications cables etc. Asphalt saws usually feature a diamond blade that is mounted on a walk-behind machine that requires only one operator. Cutting depths will usually range from 1" to several feet and the lengths are endless. Contact Del Secco for your asphalt sawing needs.
DOUBLE BARREL CORE DRILLING
Only Del Secco offers a double-barrel coring system for acceptance of concrete piles, guaranteeing 100% core retrieval.
Our equipment:
Provides intact cores for the length of the pile concrete
Meets Caltrans specifications
Allow for testing in limited access areas
BREAKING AND REMOVAL
Del Secco offers concrete removal off-site, concrete breaking, auguring and trenching. In areas where bobcats and other machines cannot be used. Del Secco utilizes sawing techniques to dice up areas into manageable pieces to be removed by hand.
Copyright © Del Secco 2013. All rights reserved.